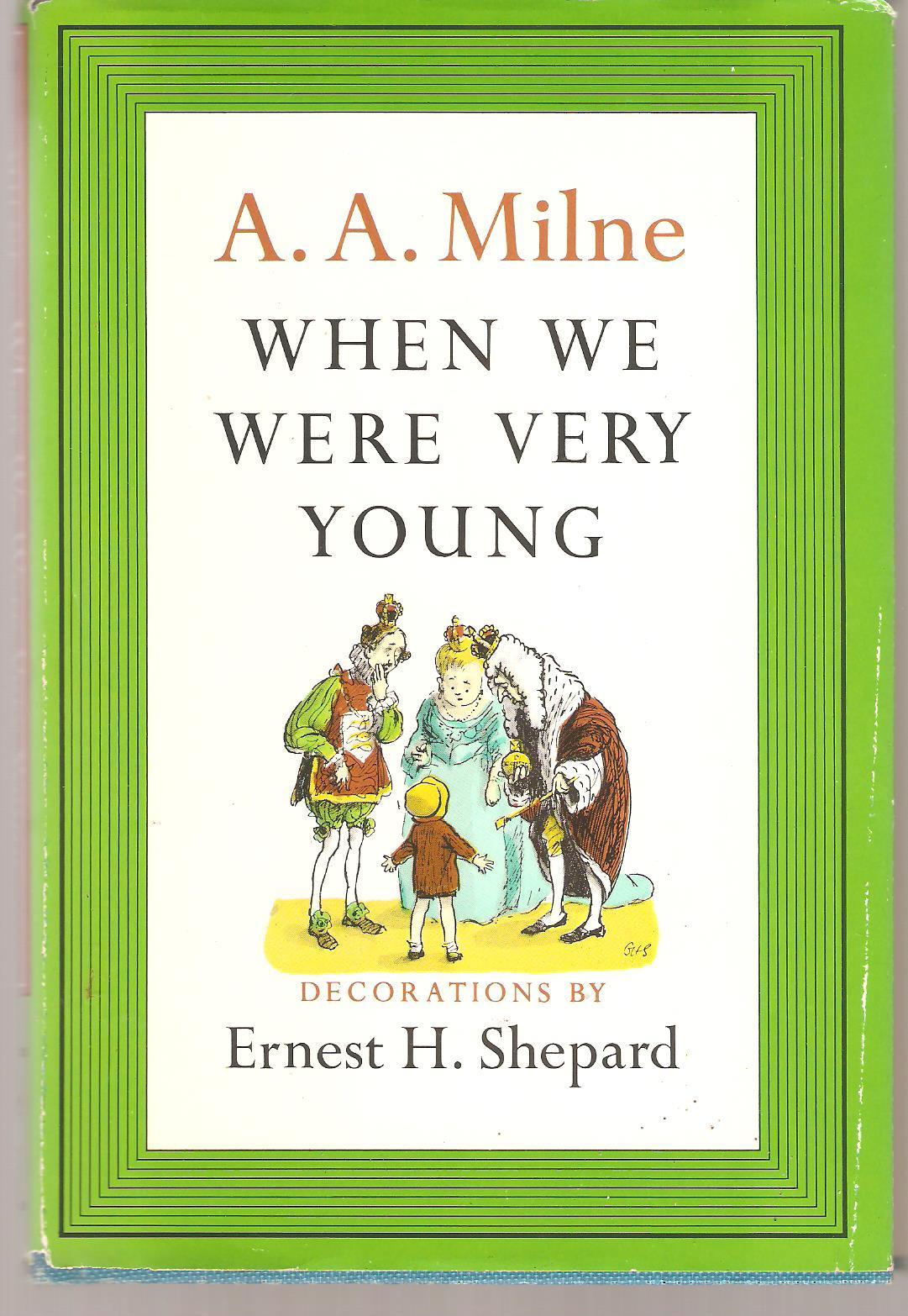 Inside my copy of When We Were Very Young by A.A. Milne there is an inscription, "Happy 3rd Birthday, Hamlin! Love, The Barnes"  Obviously, I was given this book by the Barnes when I turned three. 
When I was very young, my parents would read me the poems out of that vaunted collection
Of course, Mr. Milne is best known for Pooh, Piglet, Christopher Robin and all their pals in the Hundred Acre Wood.
I started with When We Were Very Young, moved on to Now We Are Six, then graduated to The World of Pooh
In spite of my zeal for the next volumes, I never really got past my all time favorite of Milne's work 
A poem of great rebellion
"Disobedience"
In which our hero, James James Morrison Morrison Weatherby George DuPree takes great care of his mother, though he is only three.
James James said to his mother, "Mother," he said, said he, "you must never go down to the end of the town if you don't go down with me"
There are stanzas
There are admonishments
There are decorations by Ernest H. Shepherd of a Jazz Age London mother striding down the street clad in her tea suit, muff in hand, hat on her head, car waiting to whisk her off to take tea with her smart set somewhere near the end of the town with James James Morrison Morrison, commonly known as Jim, wildly pedaling his tricycle behind her
No gits, wankers, prats, or children allowed
In one image JJ MM  Dubya G DuP leashes his mother to his tricycle as he leads her back home with her fur rakishly tossed over her shoulder 
His head held high
And, yet, there is a child desperate not to be left alone taking full charge of his situation
And, yet, there is a mother flippant and defiant in a post-war London ready to enjoy herself
And, yet, there is no father
And, yet, there is no starched and stiff upper lipped nanny, the most common of British tropes at the time
As my parents would read "Disobedience" to me, we would sing the poem in full meter
It was only much after we were six that I discovered the Chad Mitchell Trio had converted the poem to early 1960's folk music a la the Kingston Trio's tale of woe about a man stuck on Boston's T due to the want of some change
To this day, I view that brilliant piece of writing as the beginning of my own undercurrent of disobedience 
If JJ MM Dubya G DuP could take on his mama as she sauntered into society, then I could take on my parents
If he could bark orders, then so could I
If he could enlist the help of the King and Queen and Prince to locate a renegade refusing to obey, then I could be secure in the knowledge of my own resourcefulness
I attribute my independent streak to this very day to having read "Disobedience" from the time I was three
But, who was being disobedient? JJ MM Dubya G DuP or Mrs. DuP? 
Now that we are not six, or very young, that streak of independence remains
All the while due to a three year old quaking in fear…after a war…with no father…with a prodigal mother…left alone…wondering if he would be safe
And, yet, he flips it
And, yet, he assumes full control
And, yet, he is the chief actor in Milne's poem
He acts
He shan't be acted upon by the grown ups…even those who run the Kingdom and the Empire
A three year old giving permission to all three year old's to know that he and we would one day be in charge
He and we would be giving orders
He and we would buck the system
He and we would not tolerate disobedience, but he and we would be disobedient
He even stakes a forty shilling reward
JJ MM Dubya G DuP basically gives his three year old middle finger to the Establishment
A punk rocker some fifty years early
Never mind the bollocks, here's James James Morrison Morrison Weatherby George DuPree