O who am I,
that for my sake
my Lord should take
frail flesh, and die?
Samuel Crossman, 1624-1683
It's too much
It's just absolutely too much
Palm Sunday
The Sunday of the Passion of our Lord Jesus Christ
All glory, laud, and honor
to thee, Redeemer, King!
to whom the lips of children
made sweet hosannas ring.
Theodulph of Orleans, 821
Ride on! ride on in majesty!
Hark! all the tribes hosanna cry;
thy humble beast pursues his road
with palms and scattered garments strowed
Ride on! ride on in majesty!
In lowly pomp ride on to die;
bow thy meek head to mortal pain,
then take, O God, thy power, and reign.
Henry Hart Milman, 1791-1868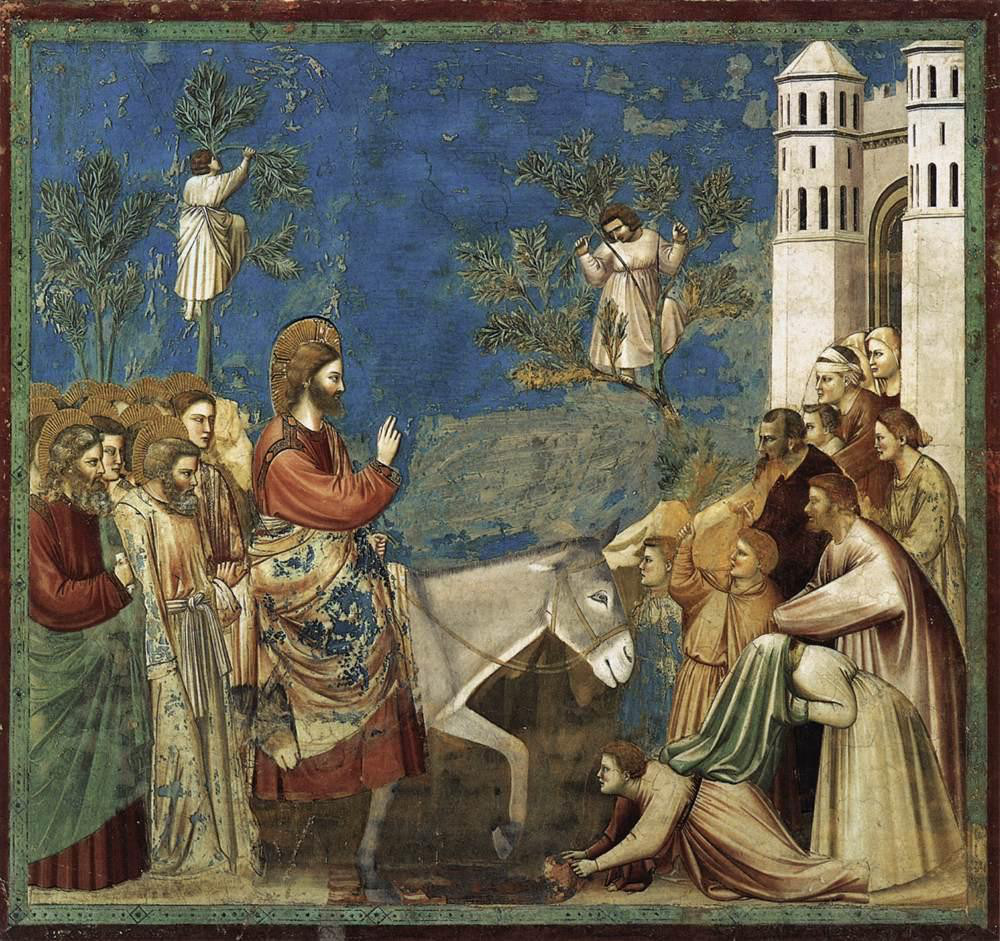 The triumphal entry into Jerusalem
Christ commanding the disciples to bring the donkey and the colt
Many spread their cloaks on the road
Palms fronds waving in anticipation
Hosanna!
Hosanna!
Blessed is He who comes in the name of the Lord!
Cleansing the Temple
Prayers and parables
Healing
Anointed with oil in the house of Simon the Leper
Mary, sister of Lazarus, let down her hair
The Last Supper in the Upper Room
One of you will betray me
One of you will deny me three times before the cock crows
This is my Body
This is my Blood
Do this in remembrance of me
Love one another as I have loved you
Then, it all turns
So quickly
So ugly
Agony in the Garden at Gethsemane
Let this cup pass
The spirit is willing, but the flesh is weak
Thirty pieces of silver
The kiss of Judas
The arrest of Jesus
Living by the sword and dying by the sword
Trial before the Sanhedrin
Suffered under Pontious Pilate
Pilate asking the crowd which man shall be freed
No stutter
No hesitation
"Crucify him! Crucify him!"
Mocked
Stripped
Scourged
Whipped
Carrying His own Cross
And then they came to Golgatha
The place of the skull
Nailed to the tree
Between the two thieves
A crown of thorns
Jesus of Nazareth, King of the Jews
Casting lots for His robes
Hours hanging on the hard wood
Arms outstretched for the love of the world
They pierced His side
Were you there when they crucified my Lord? (Were you there?)
Were you there when they crucified my Lord?
O sometimes it causes me to tremble! tremble! tremble!
Were you there when they crucified my Lord?
Anon. African American Spiritual. 19th C.
O
sometimes
it
causes
me
to
tremble
tremble
tremble
O
sometimes
it
causes
me
to
tremble
tremble
tremble
Ah, holy Jesus, how hast thou offended,
that we to judge thee have in hate pretended?
By foes derided, by thine own rejected,
O most afflicted!
Who was the guilty? Who brought this upon thee?
Alas, my treason, Jesus, hath undone thee!
'Twas I, Lord Jesus, I it was denied thee;
I crucified thee.
Johann Heermann, 1630, Herzliebster Jesu
Words from the Cross
"Look upon your Mother"
"Eli! Eli! Lama sabachthani?"
My God, My God, why have You forsaken me?
Then, Jesus cried again in a loud voice and gave up His spirit
It is finished
Ma'shelem
Tetelestai
Consummatum est
The earth quaked
Rocks split
Tombs opened
Darkness covered the land
The veil torn asunder
The centurion exclaimed
Then the burial
The descent into hell
The waiting
The sadness
The fear
We, too, wait for the Good News
The men fled
The women returned to care for the body
They, and we, will be told by the angel, "Do not be afraid!"
"Why do you seek the living among the dead?"
"He is not here!"
That third day will come
In the meantime, it causes me to
tremble
tremble
tremble
It's too much
It's just absolutely too much